Tanfanercept (HBM9036)is the first and most advanced biologic approach for dry eye disease (DED). It has novel mechanism of inhibiting tumor necrosis factor (TNF)-α that causes inflammation in the eye. We are developing tanfanercept as a topical, eye-drop treatment for DED.
Mechanism of Action

Tumor necrosis factor is a proinflammatory cytokine that plays a pivotal role in the pathogenesis of many inflammatory diseases). Tanfanercept is a molecularly engineered tumor necrosis factor receptor 1 fragment, produced by modification of the TNF-α binding region of the TNF-α receptor site. It is potent in binding and blocking TNF-α, resulting in suppressed inflammation after topical use.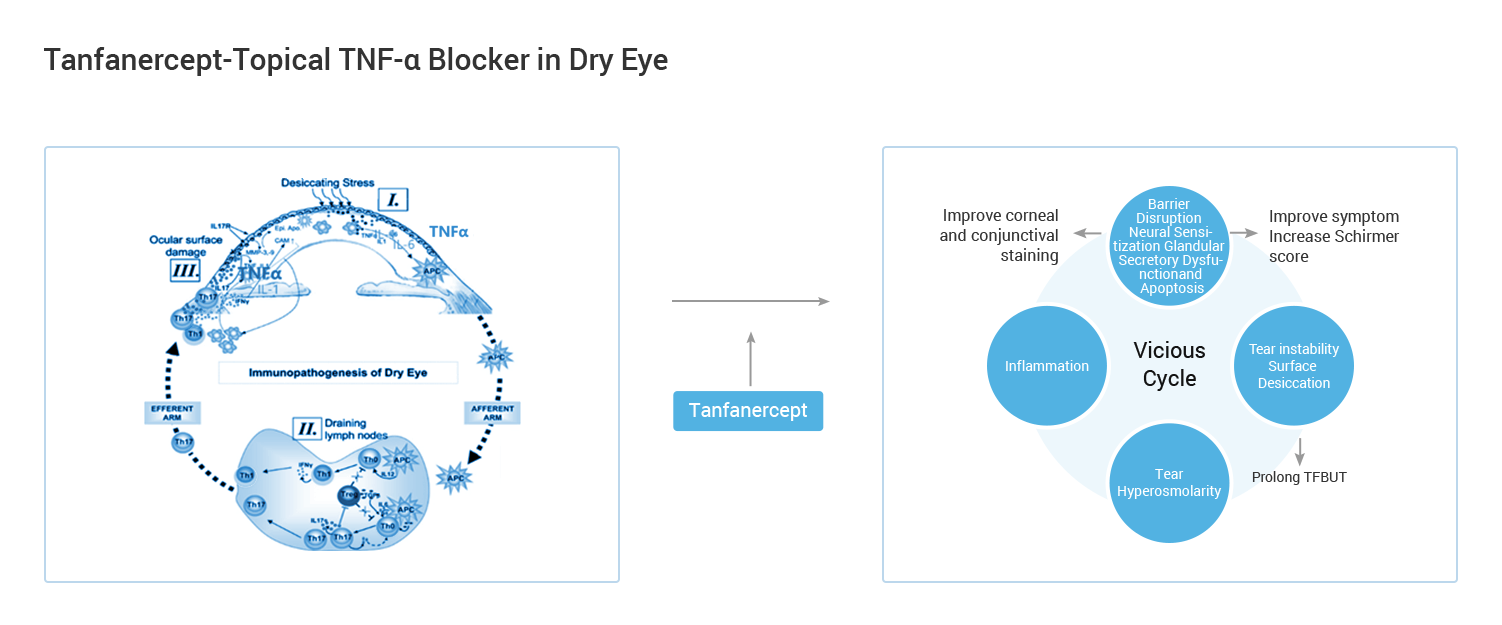 Advantages of HBM9036

As compared with the current treatments, tanfanercept has demonstrated significant improvements in signs with excellent safety profile and rapid onset in completed Phase 2 clinical trials in Greater China and the United States.
Disease Landscape

Dry eye disease (DED) is one of the most common condition associated with patients at ophthalmology clinics. It is a chronic, episodic, multifactorial disease affecting the tears and ocular surface that can result in tear film instability, inflammation, discomfort, visual disturbance and ocular surface damage. DED can have a significant impact on quality of life and can potentially cause long-term damage to the ocular surface. Due to the impact of DED on tear film dynamics, the condition can affect performance of common vision-related activities such as reading, using a computer and driving, and can lead to complications associated with visual impairment. There is significant published research that suggests that cytokines play a central role in DED as the expression of inflammatory cytokines is elevated in affected tissues.
DED is highly prevalent, currently affecting more than 190.4 million adults in China, accounting for 16.8% of China's adult population in 2019. In addition, the prevalence of moderate and severe DED is 77.1 million in 2019 and is expected to grow due to an aging population, deteriorating environmental pollution, increase in autoimmune diseases, contact lens wear and digital screen time. It is expected that the prevalence of moderate-to-severe DED in China will increase to 85.7 million in 2024 and further to 93.7 million in 2030.
The most commonly used treatments for dry eye disease in China are over-the-counter eye drops, often referred to as "artificial tears." Artificial tears are intended to supplement insufficient tear production, but do not treat the underlying inflammation in dry eye disease.
Clinical Trials

In September 2019, we completed a Phase 2 clinical trial in adult patients with moderate-to-severe DED in Greater China. In the meantime, our partner HanAll has completed the Phase 2 trial and the first Phase 3 trial in the US. The results support that treatment with 0.25% tanfanercept is an innovational and therapeutic candidate, for the treatment of DED as an alternative to the current standard of care therapeutics. Similarly, the previous non-clinical and clinical studies of tanfanercept suggest alleviation of the bioavailability and ocular tissue penetration challenges faced by biologic anti-inflammatory therapeutics. Overall, this study presents the strong, favorable safety profiles and robust efficacy in DED sign improvements demonstrated by treatment with 0.25% tanfanercept that support its continued development in China.
Regional Rights

We have the right to develop and commercialize HBM9063 in Greater China.